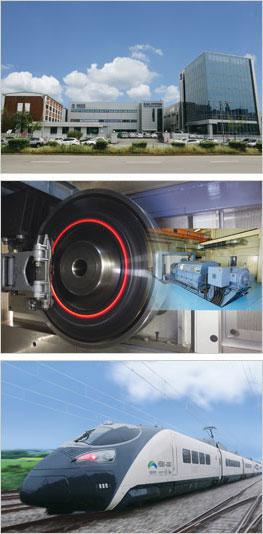 YUJIN Machinery Ltd. has been leading the development of rolling stock components through the operation of R&D center. Starting with rolling stock components' development project currently we are making an effort day and night for the development of advanced technology to take the competitive action in the rapid developing technology and globally changed customer needs & environment through braking system of each rolling stock and securing of the unique technology of core products.

R&D Center is playing a role of in the strength of national competitiveness and the advancement of technology in spurring development of new products for the future as well as national self-reliance of core technology of rolling stock as Korean basic industry.

Rolling Stock Components R&D Center for YUJIN MachineR&D Cent have been established in 1986 for the responding positively in the characteristic of rolling stock product ranges which are needed the safety and high-reliability and we have rapidly developed in this field of advanced rail vehicle as a result of development of new products and localization, and our own technical know-how, and we have made a deep effort to be able to apply with our own technology onto the design of core components for advanced EMU, High speed passenger & freight cars, LRV and High speed Train.

As a result, we are recognized the reliability with design through perfect technical connection for any kinds of rolling stocks, and reducing the overseas reliance in core division we are constantly endeavoring in research and development.

We have and hold the high skilled men power and advanced equipment through the balanced investment in the field of mechanic, electrical and electronics. As a result we have certified as designer and manufacturer of Korean high speed braking system from Korean government in December 1996.

We, YUJIN, are also leading through all R&D activities for the localization to get out of the rate of independence on imports so far in the development of electronic control system which is the main brain of rail vehicle.