Careers
YUJIN, a young firm pursuing first-class technology, awaits people having creativity and challenging spirit.
Design your future at YUJIN, a young company having a dream of leading railway vehicle component market and industrial compressor market in the world, having value that technology determines the future of company.
Screening procedure of regular recruitment
Qualified
occupations &
conditions for
application
Submit
application
form
Search DB of
talent
Paper
screening
Interview
screening
Physical
examination
Join
the company
Qualified occupations for application
Qualified occupations for application

| Type | Duty | Details of duty |
| --- | --- | --- |
| Research | Research and development | Development of new products / product designing |
| Sales | Domestic and overseas sales / sales management | Customer communication and settlement / management of customer information / customer support / sales management |
| Production | Production management / materials management / quality management | Detailed business on production, material, and quality |
| Management | Human resources /general affairs/ accountancy | General affairs/public welfare/personnel labor/training and education/accounting/tax affairs/settlement/funds |
| Manufacture | Production and manufacture | Assembly/processing and field works |
Ideal personnel of YUJIN(裕鎭人)
"Practical autonomous person"having sound professionalism
What is professionalism?
To firmly aware of one's duties as a member of a group. To be an active person who tries to perform his roles autonomously with such professionalism.
"Developmental expert" who develops his abilities with adventurous attitudes
A person who makes continuous endeavors to develop his capabilities with active and adventurous attitudes, considering individual capability as that of company and individual competitiveness as being connected to that of company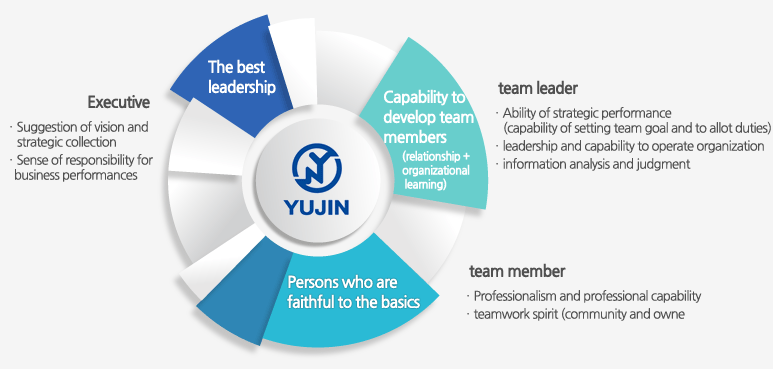 YUJIN is a company that prioritizes teamwork more than individual and is operated by full of personnel faithful to the basics and by many young people who can create new values as the main agent of change
Personnel management system
Basic operation policy
Basic operation
policy
Establishment of evaluation system for development of talent
Establishment of evaluation system inducing participation, which can diversify individual feedbacks and purpose of utilization of result of performance assessment
Establishment of reliability in evaluation according to the performance of annual salary system
Effective organization management and maximization of synergy effects from the introduction of group assessment
Characteristics
of assessment system
assessment of Additional points
Release of assessment results
Regularization of assessment interview system and reinforcement of the use of obligated assessment (materials about promotion, reward, rearrangement, training and education)
Multidimensional evaluation system
Wage system
Basic
direction
Establishment of capability and performance-centered reward system
Individual motivation and promotion of spirits with capability-based reward system
Securement and development of excellent personnel via competitive wage (realization of individual wage management system considering market value)
Rewards
Application of annual salary system for all general employees (administrative management)
Management of individual annual salary
Introduction of PLUS-SUM system rather than ZERO-SUM
Operation of Piece-rate payment-by-result system
Welfare system
Welfare for satisfying all employees' various needs of welfare
Support for children's school expenses
Various rewards (plaques, souvenirs, and overseas trip): Reward for long service / Reward to excellent employee / Reward to excellent department / Reward for achievement / Reward for suggestion
Presents (three times a year: Lunar New Year's Day / Labor Day / Thanksgiving Day)
Other welfare: Support for company picnic, year-end party, in-house social gathering, sports festival, and autumn hiking, operation of commuting bus, national pension, unemployment insurance, health insurance, and occupational health and safety insurance